LADIES AND GENTLEMEN !
Spring March 8 invite to spend together with the restaurant Bellagio. You will have to wait Gift cocktails compliment the chef. And all this to the sounds of a saxophone and a nice voice Gulzhii Omarova . Waiting For You !!!

LADIES AND GENTLEMEN !
We are happy to provide you our updated menu.

LADIES AND GENTLEMEN !
Since the beginning of the summer season, we invite you to enjoy the fresh air, mountain creek flow, to feel harmony of nature scenery.
We offer you quality food and beverages to full fill your requirements. Welcome!
VARIETY OF WINES THE RESTAURANT «BELLAGIO»
Restaurant " Bellagio " has the honor to present to you a new extended wine collection , which includes more than three hundred types of wines in cellar.
In the cellar of the restaurant stored wines from the best producers of Italy , France, Australia , Chile, New Zealand , USA.
Our pride – are red wines of Italy, delivered from all regions without exception , from Piedmont to Sicily. Separate collection of Brunello di Montalcino, which includes more than 18 titles, is able to satisfy the most sophisticated tastes of the wine consumer.
White wines of Italy are no less diverse. In Alto Adige collected fine varietal wines: Chardonnay, Sauvignon Blanc , Pinot Grigio from different manufacturers. In addition to these varieties can be found here Gewurztraminer, Riesling, Friuli – very fine wines, and each with its own unique personality. For example, Pinot Grigio at its best made just in Friuli. Tuscany, Umbria , Lazio , Campania ,Sicily – this is not a complete list of locations, where you will find the wine in our collection and will be able to appreciate them .
If you prefer from France , then in our collection includes wine of Alsace, Burgundy, Rhone Valley , Loire Valley , Bordeaux and Champagne course (rare Cuvee de prestige – Cuvee Dom Perignon.
LADIES AND GENTLEMEN! OYSTER SEASON IN BELLAGIO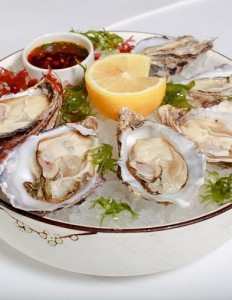 Gilardо (Gillardeau) – is an extraordinarily interesting delicacy, the fruit of research scientists of France. Gilardo family has been producing oysters from the end of XIX century. These oysters do not change the taste and quality throughout the year. The "Gilardo" contains the best taste of French oysters. Thick and fleshy, contain a lot of iodine. Characterized by a spicy sweet flavor and fresh aroma of the sea. Experts are finding them easy nut flavor. Oysters If you decide to try the oysters, then this sort – the best choice for a debut.
PROPOSE YOUR BELOVED
We offer you to do proposal to your beloved ones at our restaurant, which allows you a private area which is lit only by natural candlelight and rose petals around, you and your fianacée. The waiter brings the dessert, which is crowned with cherry with ring in it. You can make exchange in the treats and put a ring in box near the dish…. "Will you marry me? » It seems that such a simple question, but sometimes it is difficult to define. Family – a very important decision for each pair, and off course, everyone wants to remember this moment forever. The tradition of giving a ring together with a proposal of marriage in our country is still fairytale, but believes me; it is very pleasant for girls. The important thing that the effect of such a proposal is always positive … Dear men! If you decide to make a marriage proposal to your beloved, you will not find such a suitable restaurant like Bellagio.